Camp Columbia Heritage Association organised a successful event at the ANZAC Square & Memorial Galleries, Brisbane. Together with the Galleries CCHA hosted Dutch WWII historian Bas Kreuger. We had a full house with 60 delegates.
Before the presentation Bas together with our special guests placed poppies under the plaque at Galleries commemorating the Dutch Military. Picture in the middle: from l-r Captain Kasper Kuiper, Paul Budde, Cr Sarah Hutton, Bas Kreuger, Adrian Wagemakers
Bas presented on several interesting projects he has been/is involved in: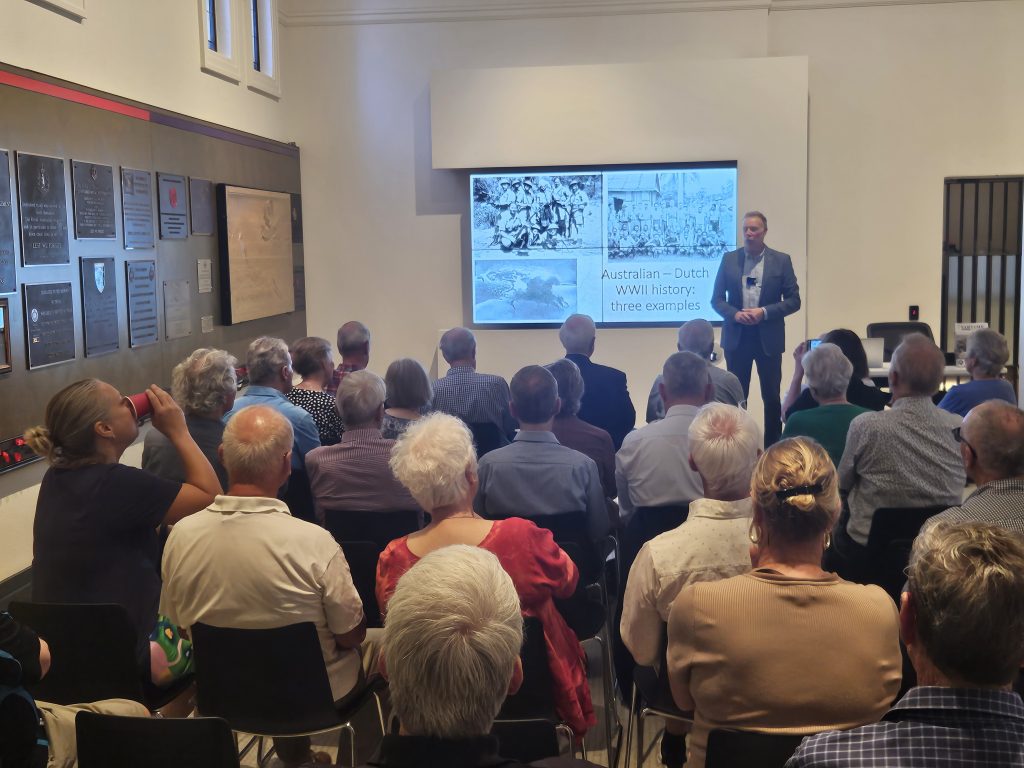 After the presentation Bas was shown the last remnants of Camp Columbia at Pooh Corner by CCHA Board Member Ed Parker, followed by a visit to the Heritage Room at Archerfield Airport
If you are interested to stay in touch with the project and future events, please subscribe to our free monthly e-newsletter
Bas Kreuger
Bas Kreuger (Delft, the Netherlands 1962) studied maritime history at Leiden University with his thesis on the loss of the first Dutch navy steam gunboat "Zr Ms Onrust" in 1859 on Borneo. He worked at the Air Force Museum and the Aviodome aviation museum where a lifelong interest in the WWII war in the Pacific started, specifically in the operations of the Netherlands East Indies-Air Force (NEI AF), operating from Australia (including from Archerfield).
Till 2015 he was director of the Netherlands Fortification Museum in the beautiful 17th century fortified town of Naarden. In this capacity there were also numerous projects that involved Dutch fortifications in Indonesia. Since 2015 he is self-employed in cultural heritage projects, mainly focused on build heritage, exhibitions and project management.
Currently Bas is working for the Cultural Heritage Agency of the Netherlands (RCE) on an inventory of all Dutch military aircraft losses since 1911 and remaining wreckage parts worldwide. In Australia those are NEI AF/RAAF squadrons 18 and 120, Naval Air Service Dornier Do-24 and Catalina's plus Dutch transport units.
ANZAC Square & Memorial Galleries
Anzac Square is dedicated to the men and women who have served their country in conflict and in peace since the 1899 Boer War. It provides a space to reflect, grieve and remember loved ones and those who have made the ultimate sacrifice.
Located in the centre of Brisbane, the Anzac Square parklands features the Shrine of Remembrance and Eternal Flame burning at its heart. Beneath the parklands are three memorial galleries that commemorate and showcase Queensland stories from World War I, World War II, and post-1945.