In the immediate post-War World years, refugees from war-torn Europe were resettled in different places across Australia. By 1949, it is estimated that one-tenth of the American/Dutch/Australian Army's Camp Columbia area became the Wacol East Displaced Persons Holding Camp.
In the early 1950s the camp was developed to become the Wacol Migrant Centre, the biggest in Queensland. In 1952, the 1600 capacity of the camp was exceeded, reaching close to 2000.
By the 1980s the converted timber Army huts were aging and a different model for receiving immigrants was evolving. The Wacol Migrant Centre and the disused Willie Mackenzie Hostel were closed in 1987. The Prisons Department took over the site and the Arthur Gorrie Correctional Centre was opened in 1992.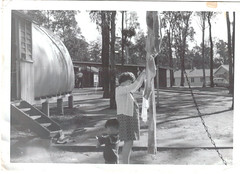 We are collecting photos stories from people who stayed at the Wacol Migration Centre. https://campcolumbia.com.au/contact-us/