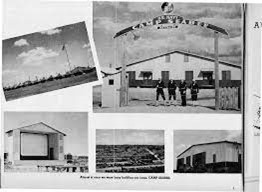 Camp Seabee in Brisbane, Australia, also known as U.S. Naval Construction Battalion Detachment (NCBD) Brisbane, was an important facility during World War II. It was occupied by the U.S. Navy from March 23, 1943, to August 7, 1945, and served as a base for the Seabees, the United States Naval Construction Battalions. Here is some information about Camp Seabee in Brisbane, Australia:
Camp Seabee was located in Eagle Farm Brisbane.It served as a logistics and support base for the Seabees who were deployed in the Pacific Theatre. The Seabees were responsible for constructing and repairing naval and military facilities, including airfields, piers, bridges, and other infrastructure, in areas where U.S. forces were engaged in combat.
The camp featured barracks, administrative buildings, workshops, and storage facilities. These facilities were designed to accommodate and support the Seabees and their equipment while they carried out their construction and repair duties.
While Camp Seabee in Brisbane primarily served as a logistical base for the Seabees, it also functioned as a deployment and training centre for the battalion members. Seabees received training in various construction trades and military skills before being sent to construction sites throughout the Pacific region.
Brisbane's Role in the Pacific Theatre: Brisbane, as a major Australian port city, played a crucial role in supporting U.S. military operations in the Pacific. It served as a transportation hub for troops and supplies and was strategically located for naval and air operations in the region.
The Camp was active during the later stages of World War II and continued its operations until August 7, 1945, when the war was drawing to a close. After the war, the camp was demobilised and gradually returned to civilian use.
The following film clip is from the US National Archives. Titled: SEABEE ACTIVITIES & CAMP, BRISBANE, AUSTRALIA (digitised silent B&W film from 1943 showing elements of the camp , including refrigerated containers, camp cooks, drills, tents, and bivouac of troops, about 8 minutes).
Camp Seabee also became a staging camp for Seabees and their equipment in island hopping operations.
Here are some of their achievements:
Naval Base Milne Bay in New Guinea on May 23, 1943.
Airfield at Merauke in Dutch New Guinea.
Mine depot outside of Brisbane.
Palm Island Naval Air Station and Palm Island Seaplane Base.
Cairns Harbor PT-Boat Base, Cairns Harbor Seaplane Base and the Cairns Airfield.
At Camp Seabee a Merchant Marine anti-aircraft training camp, and Mobile Navy Hospital No. 9 were built.
At Hamilton they built a ship-repair depot. Outside of the base an ammunition depot was built.
See also: